From the battlefield: Verhalen uit de oorlog in Oekraïne (deel 2)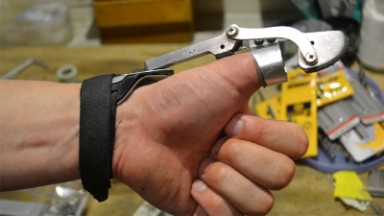 Kun jij je er íets bij voorstellen, leven in een oorlogssituatie? Kunstenaars uit Oekraïne en Nederland geven er woorden en beelden aan – ze werkten samen in het kunstproject From the battlefield. Op 13 en 14 juli zie je hun performances in de Bibliotheek LocHal.
Dit programma is Engelstalig – this event is in English.

From The Battlefield
From The Battlefield is an artistic programme that amplifies the voices of those who evidence the war in Ukraine and those who are fighting to protect freedom and hope. To better understand the situation it offered a direct dialogue between artists from Ukraine and the Netherlands, resulting in a series of performances, talks and an exhibition.
Deel 2
On the second evening of From The Battlefield at the LocHal Library there is a presentation of the zine 'One day you will grow your thumb back' with an artist talk by Chantal Rens and Tamara Turliun. Also, there is the participative performance 'Seeds of Europe' by Alevtina Kakhidze and Roos Vogels in which people can exchange seeds for stories and evidence. Ukrainian seeds for the stories from the Netherlands and vice versa.
Praktische informatie
Datum: donderdag 14 juli
Tijd: 19.30-21.00 uur
Locatie: KennisMakerij (Bibliotheek LocHal)
Kosten: gratis
From The Battlefield was conceived by Maria Vtorushina, curator-in-residence at SEA Foundation. The programme is supported by Culture Of Solidarity Foundation, Mondriaanfonds and Goethe Institut.
More From the Battlefield